MOST PROMINENT TRENDS FOR FALL 2015
London is often regarded as the more eclectic of all the fashion capitals. This season is no different. Roksanda showcases their daring bold tapestry and vibrant fur wraps. Radiantly melancholic, this gorgeous Roksanda collection broached dimensions hitherto unexplored. For Fall, designer Roksanda Ilincic's facility for retina-searing color combinations on arresting, hyper-feminine silhouettes was applied to danker shades. This Collecting inspired feelings and emotion rather than any specific era.
It's exciting to see the flavours that will be inspiring Australia's Fall 2015 collections.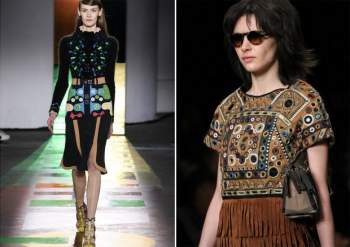 Burberry (above photo style.com) 2015 Fall collection designs have sourced their inspiration from Morocco. It is easily done when visiting this culturally rich  Nation. Visit our YouTube slide to see some amazing design details this beautiful country offers. Our senses were awakened with delightful aromas and stunning colours.  Burberry's detail reminds me of the Marrakesh Berbers who live at the base of the Atlas Mountains, their ancestors embellished their garments with these jewels
New York
Mary Kate and Ashley Olsen (above photo style.com)always pleasing with classic lines, natural hues, and brown tones with subtle suede and woolen blends. Ralph Lauren's Santa Fe style in warm khaki also offers the cozy winter blend of suede and wool. What colours are you naturally drawn to? Is it the bold deeper tones of plum, burgundy, and fuchsia, or the natural earthy tones?