Why do some men hate the process of dressing up?
There was a time in the not-so-distant past when a man wore a crisp white shirt and neatly tailored suit to the office simply to convey that he was of a certain means and self-respect.
So what changed? The loosening of judgment without restriction is almost a positive. But there's also something to be said for putting time and effort into your appearance, and the confidence and respect that come with showing your best self to the world.
So why do most men hate shopping and dressing up? Are young boys neglected in social circumstances? As moms took their daughters shopping, what boy heard his father say, "Come on, son, let's hit the stores and get you a new look"? Great a man as dad's may be, some only hand down a hand full of grooming skill sets: 1) How to tie a tie (one knot only); 2) How to make a part in your hair; 3) How to polish your shoes… That's it! All it really comes down to  is – 'They don't know that they don't know'
According to an article 'Why Men Hate Shopping' in Time Magazine –  most men stated "We will find ways to avoid shopping and if we can substitute shopping for football,  it's easy to see why we hate to dress up. We don't know how. No one taught us. And who likes doing anything they're not good at?
If we were to examine the contents of a man's wardrobes would we find more that they are willing to put effort into? The answer more often than not is… Yes! When I style a male client with a wardrobe analysis I do find some hidden treasures buried deep at the bottom of a pile that actually put a nice look together when shown how to.
There are often deeper layers and beliefs in place. As I style my clients I find it to be far more layered than just I hate shopping for clothes. The stories we tell ourselves are often invisible barriers that either keep us in our comfort zone or sabotage our evolution. 
Now the way a man may appreciate a beautiful well-dressed woman, women too love a well-dressed man. And a three piece suit will definitely turn heads. Why do you think James Bond has such a loyal following? The clothes maketh the man.
Now I know Queensland has a hot and humid climate and does not provide opportunity for the three piece but there's really no excuse not to look smart.
Dressing well is a skill. And like any other skill, you can learn it, when you understand the basics. The fit and cut and your natural colour tones are the most important thing when it comes to great style – it will solve 90% of your style problems. When you have the right cut styles to suit your shape (whatever that may be) it is easy sailing from then on. It will save you time shopping and it will save you money by buying only what you need – The Capsule Wardrobe. All that's left is the remaining 10% and that is to develop your own unique style. Every man has different comfort levels. Fabrics play a big part in that. When in doubt linen is a great choice in mens wear, super comfortable and easy fit. Establish a simple, but no less solid, grooming regime, the right haircut and shave, nails, shoes and you will feel like a new man.  Most of this is just a few degrees over from where you are but boy oh boy what a difference it will make. So let's bring that confidence forth gentlemen and let the self-respect and your best-self shine to the world.
With many social occasions fast approaching, there's really no excuse gentlemen…
In general, smart casual means neat chinos or a pair of dark-coloured jeans with a shirt, a blazer, and a pair of leather shoes.
Here are some warm climate style tips that would have you looking smart and take you to most any day time occasion.
Your outfit should be well-fitting but slightly less formal than a business casual or business professional style.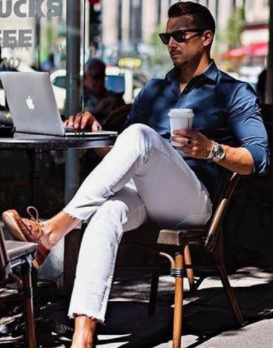 I guarantee these styles will evoke positive feedback and have you feeling great.