Octavia Shoes & Fashion are always keeping a look out for all things design. We read the National Art Gallery of Victoria was showing Australian Fashion History and we could not resist sharing this iconic story with you.
The quintessential photographs captured by  Henry Talbot (friend of Helmut Newton) represent a significant chapter in Australian fashion photography history, capturing key moments of fashion evolution in Australia. At Octavia Shoes & Fashion this is a wonderful exhibition to reflect on as 'Classic Style' is our primary template.
For Talbot and other fashion photographers working in Australia, magazine shoots enabled for greater independence then other commercial work in that time. Editorial fashion projects allowed to liaise with editors and stylist and create a series of stories rather than single images in the way advertising photography did for marketing projects. Magazine work, particularly with Vogue Australia were highly sought after. Talbot says 'There were so few fashion magazines in the true sense, the was really only VOGUE and FLAIR. The arrival of Vogue was hugely important for the Australian fashion industry. It put our designers like Prue Acton and Norma Tullo on the international map. Initially Vogue published under the British supplement in 1955. The first stand alone Vogue Australia launched in 1959. Talbot claims that Vogue standards were so high that to achieve a single image to be published in the magazine, he would take upto 150 shots.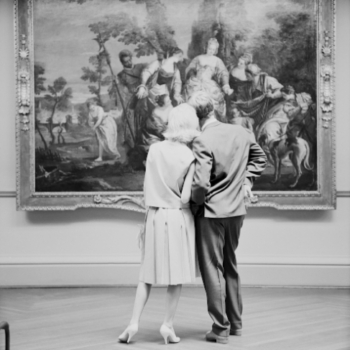 Photo shoot for Blunden Wool. Location National Art Gallery Of Victoria 1961
Models; Joan Crellin & Bruce Anderson
Henry Talbot capture the essence of the youth movement that shook Australia. Forever changing the fashion scene
Fashion illustration model wearing a three-quarter length coat, 1961–66. Photo: Henry Talbot Fashion Photography Archive (119652) © Lynette Anne Talbot –
Fashion illustration, model Maggie Tabberer, 1960s. Photo: Henry Talbot Fashion Photography Archive (119664) ©
Fashion Shoot for Sportscraft 1956. Model; Janice wakely
Papua New Guenea Fashion illustration model wearing cropped pants and jacket, Papua New Guinea, 1961–66. Photo: Henry Talbot Fashion Photography Archive (119629) © Lynette Anne Talbot
Womens fashion magazines were the first medium to present images of women for women and the women depicted in these editorials were cast as active as opposed to passive roles that had been traditionally assigned to women for a male audience. The 1960's fashion magazines reflect the broader social changes for women.
To coincide with this exhibition of Henry Talbots work, The National Gallery of Victoria is appealing for help to identify the young women who featured in images by one of Australia's foremost fashion photographers, Henry Talbot.
http: For more information and images see www.ngv.vic.gov.au/ebooks/HenryTalbot/