FALL 2015 COLLECTION IS UPON US
Givenchy designer Riccardo Tisci revealed the news that Donatella Versace is the new face of Givenchy. The fashion industry is a highly competitive business, but that doesn't mean designers can't help each other out once in a while. Once upon a time, such a collaboration would be unheard of, but today supporting fellow designers is a new movement. They each bring such powerful talent to the table, Donatella will star in the brand's Fall/Winter 2015 campaign which is called "Givenchy Family".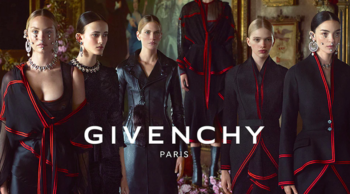 The Versace designer is clearly thrilled about this project, posting their picture on her Twitter and adding "for my talented friend Riccardo. Together we break fashion boundaries today!"
The Givenchy Ready To Wear (RTW) 2015 Fall Collection was named "Chola Victorian "
in his Teaser backstage of the show. This pre- fall collection is filled with an array of varying materials ranging from fur, to leather to velvet in the form of a blazer or suit. The "Chola Victorian" models are aptly stunning for this collection.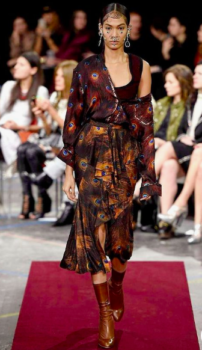 Dark, daring and powerful. Inspired by Hispanic girl gangs and Victorian mourning regalia, it spoke of art and empowerment, strength and beauty. The girls' faces were adorned with quite extraordinary jewelry, embellished faux piercings that hung from the nose and ears as glittering rebellion; the hair flattened and curled against the cheeks. This alone made it a stand-out. But the clothes transported it somewhere else.
The glistening jet beading covered corseted and peplumed (ruffle) velvet jackets and capes, chiffon ruched over bodices, skirts split to the thigh, cascaded effortlessly. There was a gothic-like sentiment that spoke artistically.  The sharp tailoring, the peacock print adorned dresses & leather bodices, gave the show a splash of colour. Then there was the finale dress in burgundy and entirely beaded.
This collection possessed an irresistible dark allure, a couture execution beyond another, and a compelling intensity.
This is Riccardo Tisci's tenth year at the house and his most compelling show to date.