Firstly, I never thought I would ever need a stylist nor didi I think I could ever afford one. Naturally was l was anxious to let someone into my personal wardrobe. I have a full wardrobe, and yet quite often I find myself with nothing to wear.
My first impression of Elizabeth is how graceful she is, I warmed to her immediately.
Elizabeth measured me and did a colour consultation, Elizabeth explained that understanding my body shape would help me save time and money in the future.That was a good start to my day. So no more false reassurance from shop assistance.
By the time our two hours was up, I can honestly say I now have a wardrobe full of fun. I look forward to dressing up every day. Elizabeth showed me how I can mix and match with what I already have. I would have never thought of putting some pieces together and they looked great.
I work as a disability carer and fashion is the last thing on my mind. Elizabeth said that what I do it's a wonderful service for others and reminded me I need to care for myself too and dressing up is something to do just for me, because how it makes me feel. How right is this lady!
What I took away is a feeling of "I am worthy of feeling beautiful" that is what Elizabeth left me with that day. She did more than just organise my wardrobe. Elizabeth switched something ON that has not been switched on for a long time.
And another unexpected bonus Elizabeth left me with was the complimentary organiser and hangers for all my clothes. Everything looked so organised and in order that I keep peeking into my cupboard to admire it.
I could not recommend Elizabeth's service high enough for anyone and everyone who just needs to feel renewed and appreciated.
Love thyself.
Thank you Elizabeth
You're amazing
H. Grogan
Banora Point
I recently had my clothing in my wardrobe styled by Elizabeth. My daughters organised it as a present and I'll be honest, at first I was quite sceptical, but after meeting Elizabeth and seeing what she does I was really surprised.
It was a great experience and I was able to revitalise my wardrobe in an efficient and organised way. It allowed me to restyle my look in a more professional and coherent way using the clothes I already had. It gave me more confidence in my appearance and a greater understanding of the clothes that fit my personal style. Thank you Elizabeth.
J. Hayward
Tallebudgera.
Hayward Constructions;
Contact 0458621961
Elizabeth, thank you so much for the style session on 18 October. I appreciated your objective & perspective for both my wardrobe and make up selections. You gave me combinations from my wardrobe that I never had considered before and you gave me different colour combinations that I have used since then and enjoyed wearing. Thanks for your gentle manner, fresh eyes and years of experience to give me more out of my wardrobe, and colour make ups. I had fun and hope you did too.
Thanks also for your further suggestions by email. I'll follow them up too, I used to have a belt like that and it was such fun to wear. I'll check it out again..
Thanks Elizabeth.
Thanks again for your time and wisdom.
Kind regards,
Carolyn Phillips
"You can stop an invading army. You can't stop an idea whose time has come." Victor Hugo
Cashback World
Shopping Benefits No Matter Where You Are
Mob: 0403 379 183
I just want to do a massive shout out to
E
lizabeth. She did an amazing job helping me to shop for a cocktail party this 
coming
Saturday. 
She's an amazing personal shopper.
Unbelievably
professional, diligent and she has an amazing eye for what she does. I used to hate shopping…now 

I

have an 

E

lizabeth 
 🙂 🙂
.
Thank you so much for today, you're amazing!
After recently launching a new business venture and also re-branding an existing web design business, I engaged Elizabeth to help me bring my corporate image into the 21st Century. WOW – The Ultimate restyle package put me back in touch with a quality hair and facial cut and style. Elizabeth then educated me on how to source the clothes I needed to make my new corporate image complete. I feel my new modern, corporate look has done wonders for my brand and now my customers see a real professional. I feel great in a new snappy and confident look.
Glenn Goodman
Executive Director
Blue Ocean Web Hosting
I am the owner & creator of a natural skincare range the 'Sensory Journey', I have been wanting a new look for a long time but struggled to muster the courage & lacked the know-how to achieving it, until I met Elizabeth from Styled by Elizabeth.
Elizabeth's consultation meeting was comprehensive and fun, so the decision to proceed was easy & I felt relieved that I could leave the decisions & creative vision in her capable hands.
Elizabeth helped me feel at ease by explaining the whole process this whole experience could not have been more supportive & caring. I was very impressed with Elizabeth's attention to detail & the level of care during the whole process.
The biggest surprise was how Elizabeth styled my products & created a comprehensive portfolio I am now able to apply to my website, social media & other marketing platforms. I am very grateful for the professional styling & branding profile Elizabeth has created for me & my brand. I now feel that both my brand & I are cohesive image & communicate a clear message to my clients.
Thank you, Elizabeth, for supporting me through a huge change, I don't think I would have done alone. I would not hesitate to recommend Styled by Elizabeth to anyone looking for a caring soul who works from the heart using her knowledge & expertise to create the "new & happier you".
Lesley Smith – Sensory Journey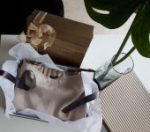 Good afternoon Elizabeth,
It was so very lovely to meet you and I genuinely appreciate your expertise in helping me in this regard.
Thank you so much for sending through such a wealth of information for me, I see myself wearing these items as it would certainly give me some good variety in the wardrobe. Thank you so much again for opening my eyes to all of these opportunities
I just wanted you to know that I love all three pairs of shoes I bought as a result of our shopping excursion! I actually have the lower heeled pair of sling backs on today at work and love them. They are so comfortable, dressy enough for a Monday with no meetings and really suitable for the hot weather we are having in Sydney at present. A win win all round! Wore the Steve Madsen sandals on Friday and they are lovely as well.
Thank you so much for taking on the task to tailoring both pairs of pants for me Elizabeth. I am sure I will get a lot of wear out of both pair. The pants are perfect!
I really appreciate it!
Looking forward to catching up again in the future (clothes and shoes)!
Take care and many thanks again. Really appreciated your services.
Warmest regards,
Helen Bevan
Director Systems and Reporting
Work Health & Safety | Business Services